About Us
The Trans Chorus of Los Angeles is the first all Trans-Identified Chorus in America, consisting of Transgender, Non-Binary, Intersex, Gender-Non-Conforming and Gender-Fluid individuals. TCLA Celebrates diversity and acceptance in our appearance and vocal presentation so that others can see and feel the joy we share. Through our music we bring to the world awareness, understanding, power and victory for the Trans Community.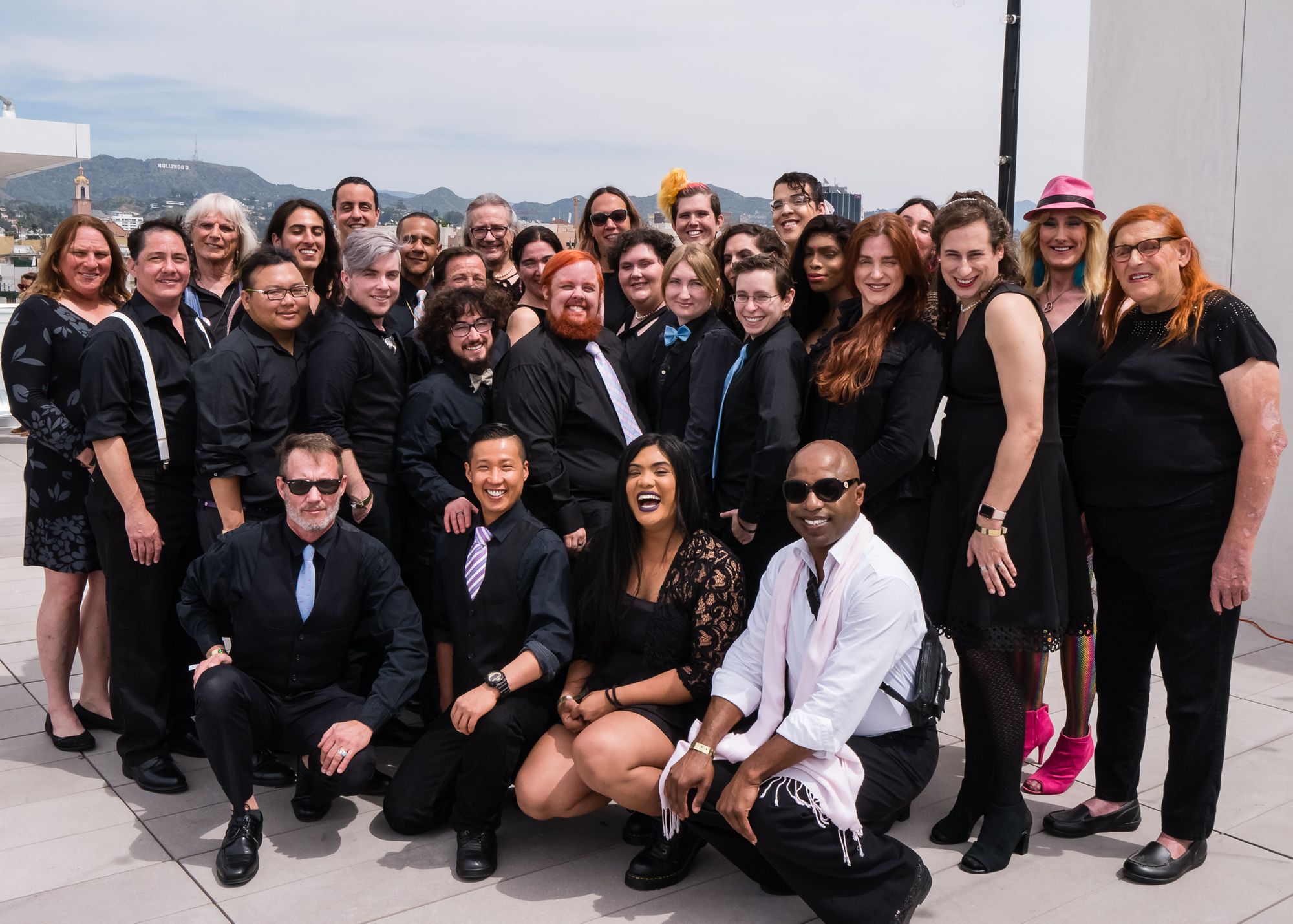 History of TCLA
Born out of the Gay Men's Chorus of Los Angeles in 2015, the Trans Chorus of Los Angeles (TCLA) was formed with the intent of creating a chorus to represent larger Trans Community. An invitation was sent out to any who identified as Transgender, Non-Binary, Intersex, Gender-Non-Conforming, or Gender-Fluid to join, and the first meeting was held at New York Life in Los Angeles.
Lead at the time by Lindsey Deaton, the members of TCLA focused on honing their voices for their First Season. Performing only limited engagements, such as the Trans Day of Remembrance, they continued to hone their craft. Joe Lawrence would join as the musical accompanist, later to become the Musical Director, arranging music and helping the vocalists meet their artistic goals.
It was in the beginning of their Second Season that the Ziggy Stardust stage show was announced. Soon planning and training would begin in earnest. The show was a smash hit and had several repeat engagements throughout the season. In the Chorus's Third Season focus was turned to community engagement. Many more performances at local events were had; Pride events were of a particular focus.
In the Fourth Season of the Chorus, with Abdullah Hall as Artistic Director and Kathryn Davis as the Executive Director, the Chorus continued to make progress with community engagement. Performing at over 30 events, TCLA was getting noticed. The calendar was packed with events such as Palm Springs Pride, 29 Rooms, The Los Angeles Women's March, TranSister Radio and the opening of the LA LGBT Center's Anita May Rosenstein Campus. The rate of bookings is only increasing as the message of the Trans Chorus of Los Angeles gets unleashed into the world.
Trans Chorus of Los Angeles is a proud member of GALA Choruses.
---
Executive Director :
Kathryn Davis
( She / Her / Hers )
Our Executive Director works with the Artistic Director, Financial Officer and TCLA Board to ensure Chorus has the resources and funding needed to operate.
Artistic Director :
Abdullah Rasheen Hall
( They / Them / Theirs )
The Artistic Director oversees all musical aspects of the Chorus, guiding TCLA's overall performance, look, direction and sound.
Music Director :
Joe Lawrence
( He / Him / His )
As Music Director responsibilities include arranging music, helping growing vocalists and working with the Artistic Director to meet TCLA's musical goals.